My reading rate seems to have gone down. This is peculiar given with COVID lockdowns in Melbourne I would have thought I would have read more books in 2020 and 2021. However I seem to have gone from between 60 to 70 books read, to around 50 for the last few years.
The number of audiobooks has been pretty healthy though. I did spend some of 2020/21 working through the Dune series from the first, Dune, through to the eighth, Sandworms of Dune.
Looking at days per book and pages per day, I don't think the slowdown was because I was reading longer books!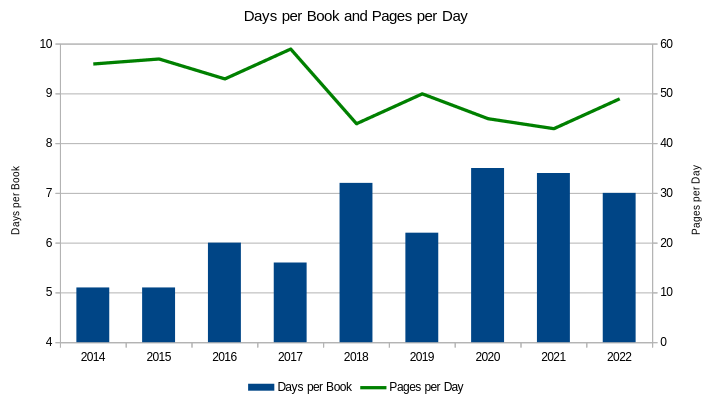 Taking a gander over what I've read in the last five years, there have been a lot of good books and series. The Rosie Effect and The Rosie Result were good follow-ups to Graeme Simsion's charming The Rosie Project.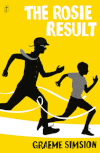 The Xandri Corelel series by Kaia Sønderby was set in the far future, featuring one of the few remaining autistics in the human race, I found quite captivating and wish there were more books following this character. I also got my hands on a copy of The Tripod Trilogy, which is a young adult series by John Christopher I'd read several times in my youth. It was a delight to have these and read them again.
There were also a couple of stand-out autobiographies. There was Becoming Superman by Joe Michael Straczynski, who I've always thought was a terribly interesting human ever since he created the Babylon 5 television series.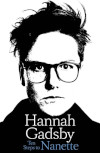 And more recently Ten Steps to Nanette, Hannah Gadsby's story of life from growing up in rural Tasmania, becoming a comedian, and the journey that lead to the titular stage show. Watch Nanette, and then watch their follow-up, Douglas which I believe are both available on Netflix. Then listen to them narrate the audiobook of Ten Steps.
Looking at ratings I've given, perhaps I've gone for quality over quantity with 2020 being a standout year with 94% of the books I read rated three starts or better.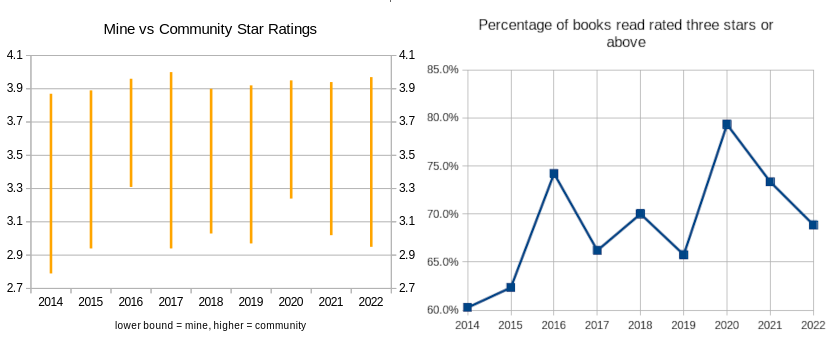 In the last five years my average rating was 3.04 versus Goodreads of 3.94. I seem to hover round one star difference to Goodreads ratings, 2020 again being the exception where it narrowed to 0.7 starts.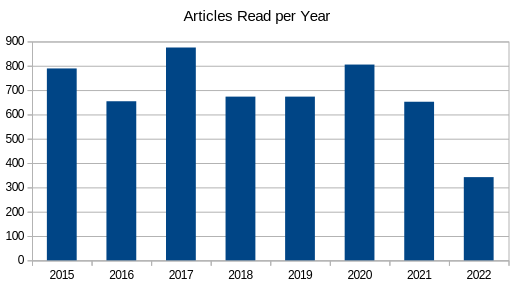 The number of articles I've read in a year has also dropped a bit, and just about halved in the last year. Don't know why.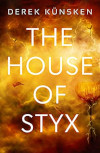 Other good readings were The Murderbot Diaries by Martha Wells, and of course, Project Hail Mary by Andy Weir. The House of Styx by Derek Künsken I found a bit difficult to get into at the start, but it must have drawn me in as it got a solid four stars from me. True Biz by Sara Nović, another good four star book, is a young adult entry set in a school for the deaf.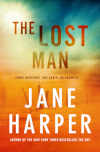 Lastly, I've been reading a lot of Australian authors more recently. Anything by Jane Harper goes to the front of the queue when it is released. The Caleb Zelic series by Emma Viskic is also a good read. As is the Judi Westerholme series by Sherryl Clark. Simon Rowell and Chris Hammer are worth your time. And I'm working my way through the catalogue of Sally Hepworth's musing.
With over 300 books in my mountain of to-be-read, I might have to lift my game.