Reading Habits of 2015
So 2015 was very similar to 2014 in terms of book reading, which clocked in at 72 books and a total of 20,909 pages for the year. Or 57 pages per day, or a book every a book every 5 days on average.
There was only one book I gave up on (it was an early novel from an author I usually enjoy, so that was unusual). My average rating was 2.94, against a Goodreads average of 3.89 for the same set of books. Last year my average was 2.79 so perhaps I am getting a bit kinder in my ratings.
I also read a whopping 789 articles and blog entries (most done via my ereader's integration with Pocket). A word count of about 1.15 million. (Looking at the month by month, there's a big spike in May when I was doing a lot of bus travel.)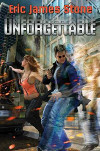 My favourite book for the year is Unforgettable by Eric James Stone. Second place is The Devil's Only Friend which is a good launch into a second trilogy based on the horror series that started with I Am Not A Serial Killer.
Two books rated with five starts, 18 with four stars, and 28 with three. That's 60% of books with a three star rating or better (which is a 5% drop from last year). This year all 72 books were read as ebook format on my Aura HD.