Discovery of the Week: The Awesome Foundation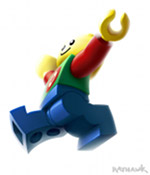 Last month I attended Ignite Melbourne where one of the speakers, Ross Hill talked about The Awesome Foundation.
The Awesome Foundation has about twenty chapters around the world, each of which provide monthly $1,000 grants to a someone in order to do something awesome.
There is a Melbourne chapter. Previous grant recipients include:
I love the simple, contagious, whimsical, tilting at windmills feel of it all.
Be awesome.